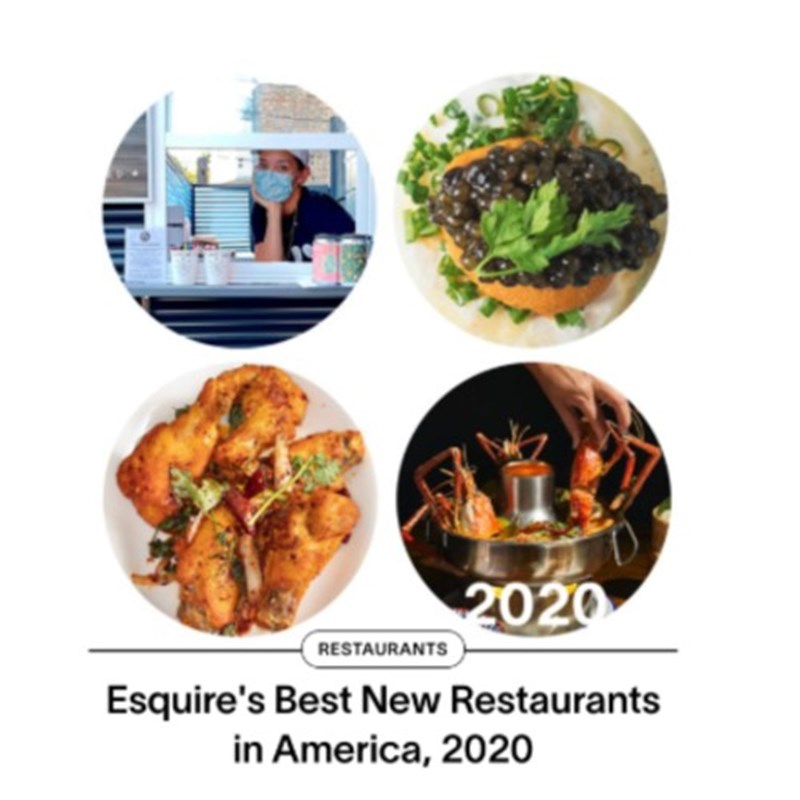 ABC Pony Earns National Recognition
Dec 07 '20
PB&J doughnuts, creamy crab dip and biscuits, burrata and meatball-filled spring rolls. What do all these things have in common? Well, for one, they're all delicious. But they also happen to be some of the most popular dishes at ABC Pony, the creative cafe in NOVEL's West Tower Lobby and one of DC's hottest destinations for coffee, cocktails, inventive pastas, imaginative pastries, and more. These dishes are brought to life by ABC Pony's Executive Chef Armani Johnson, who was recently named Rising Star of the Year by Esquire Magazine in their list of 2020 Best New Restaurants in America.
Haven't been to ABC Pony yet? Well, what are you waiting for! Check out a few of our staff and residents' tips on what to order once you make it to DC.
Resident Aixa's favorite dish? The lumpia — a savory spring roll stuffed with burrata, meatball, and spicy tomato. Another NOVEL crowd-pleaser to kick off your meal: ABC Pony's Caesar salad, an inspired twist on a tried-and-true classic featuring apples, hazelnuts, and radicchio.
Leasing team member Jakiya's go-to order is the blackened rockfish. There's great seafood all over DC, but this fish dish really hits the spot, and also comes with a unique dirty rice made with chicken liver XO sauce. Speaking of seafood, the crab dip is also an all-time favorite for Leanna, Assistant General Manager, and Olawale, NOVEL concierge team member. Sprinkled with Old Bay and topped with a fresh cheddar biscuit that melts right in, this appetizer is a delicious Chef Armani-approved way to start every meal at ABC Pony.
One thing we can't forget: brunch! From toast to tots and egg sandwiches to spaghetti, Saturday's menu is always something to look forward to. The most talked about pastries around town? ABC Pony's iconic and ever-evolving lineup of doughnuts, which range from classics like glazed and powdered sugar to quirky flavors including Cinnamon Toast Crunch and Vietnamese iced coffee. A vanilla latte is the perfect pair with your pastry, which comes highly recommended by NOVEL resident, Jen. 
There are plenty of reasons to love ABC Pony, but one in particular is that they now offer room service to NOVEL residents and will deliver dinner, cocktails, dessert, and yes, coffee, right to your door! Click here to connect with our leasing team and find your home at NOVEL South Capitol. And while you're at it, go ahead and order yourself a doughnut (or two).